Introduction.
As if the politicians dont want to control our lives enough already comes the astonishing news that the erstwhile Democratic Congressman Henry Waxman, from California of all places, has unbelievably managed to get an anti-vitamin amendment into the wall Street Reform bill currently passing through the House of Representatives. So, whether you take vitamins and supplements to help you to maintain a healthy body or actually need them for a medical condition the time is fast arriving for you to fight for your vitamins.
How can he do that?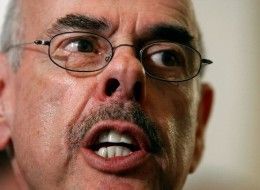 With the full title of the bill being the Wall Street Reform and Consumer Protection Act Congressman Waxman has quite simply, in our opinion, abused his position to add into the act a personal vendetta against the vitamins and health supplements industry. How has he done this, well by adding an amendment to the bill that gives increased power to the FTC, not the FDA, to regulate and pass laws on health/dietary supplement companies. Now what exactly the Federal Trade Commission knows about health supplements that the Federal Drugs Agency isnt better placed to pass judgment on remains a complete mystery! One can only presume that Congressman Waxman is back in the days of the ol west and thinks that all vitamin and health supplement products are either being sold as miracle cures or simply must be snake oil! Of course you have to wonder if hes sponsored by one of the major pharmaceutical companies and is really trying to protect their interests, rather than those of his constituents?
The real problem for the vitamin and health supplements industry.
Joking apart there is a real problem here for the vitamin and health supplements industry. As things stand for a product to be sold as a vitamin or health supplement product they have to met well established and known FDA standards. However, under the FTC they can simply pronounce something as unfitting for labeling as a vitamin or health supplement product, without the manufacturer or vendor having any recourse to challenge their decision. Now then, supposing someone wanted to market the ubiquitous snake oil as a cure all for everything from anxiety to zits fair enough. But to make something like recommending Garlic extract for high cholesterol to become an offence over-night is to say the least harsh. So, if you value being able to try out new vitamin and health supplements as they become available time to let your congressman know now, and join the fight for your rights.